Note: This post originally ran on my blog from many years ago, wheeleringermany.blogspot.com. I posted to and updated it during some of my tenure as an au pair in Dresden, Germany.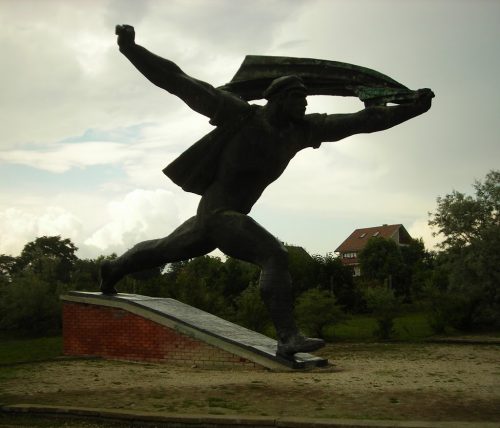 I thought I'd post that picture, of one of the Communist statues in the post-Soviet statue park, outside of Budapest. Seen during my first visit to Budapest.
To the potatoes: Ferdinand degenerated during the latter-half of the day, after the parents had left (a little past 7) to go to a birthday party. We fought a little, I thought everything was OK. I asked him to start working on cleaning his room while I got ready to make a little something for dinner.
I came in and started working on cleaning his room, while he just sat there and moped. He had done very little whilst I was in the other room and had said he was done — not that he was put-a-fork-in done but rather he'd completed his work.
He seemed to sour before my eyes. I think this happened:
He formed an idea in his head, started repeating it and then started believing it, until he fully did. He told me he was upset because he'd thought he'd got to do NO fun things the entire day — that the whole day was consumed by un-fun things. He then proceeded to sulk and was pissy for the rest of the night. I think he even tried a mini hunger strike. He refused to eat more than one egg for dinner.
He proceeded to not talk to me for the rest of the night, at his dinner alone in his room, read in the room. I cooked dinner for myself, went upstairs and listened to Talk of the Nation. He came up around 8:10 and started to watch TV, not uttering a word to me. At nine, I asked him to go brush his teeth and get ready for bed. He turned off the TV, threw the remote down onto the chair and stomped down the stairs. He slammed the bathroom door. He came out after awhile (I was washing dishes) and slammed his door.
One should know: we'd play-fought for quite a bit, he'd talked with his mom and otherwise not done too many productive things for a large part of the day (he came home at 2:45 or so.) It was a huge struggle to get him to unpack and repack his backpack and he took a long, luxurious bath once he got home from soccer practice, at about 6:45.
Life is tough, isn't it?
I really think he worked himself into a froth. I think he wanted to be pissy and angry and frothed.
As William Goldman wrote for the Princess Bride movie:
"Life is pain, Highness. Anyone who says differently is selling something."
To round it out, a picture of a house in Denmark. From the sailing trip with the Kretzschmar family.