Find the stand-alone recipe here.
Sometimes, great things come from the lowly grill at your local gas station.
That is the case with the corned beef hash burrito, originally hailing from the Triple S gas station in Española.
Uniquely New Mexican and a delicious fusion, there is nothing quite like it.
I was first introduced to this fusion by a co-worker who announced to the newsroom that he was going to get one at the gas station.
Soon, I went to discover this invention myself. I can vouch: it's amazing.
Here in New Mexico, you will always be asked if you want red, green, or nothing. This refers to green chile and red chile. If you want both, it's called Christmas.
This version leaves the chile choices up to you. I decided to chop up and lightly cook a green chile for the burrito. Normally I would have paired it with salsa and the secret sauce I use for grilled corn and fish tacos, but I was out of both.
There are quite a few moving parts to this recipe.
First, the corned beef hash. I used the canned kind because I haven't made corned beef in a while. If I had, the hash is pretty easy to make. Finely dice everything (cabbage, potatoes, corned beef) and throw it in the skillet to fry up.
Either way, it fries in the skillet.
Next are the diced potatoes, which are optional.
Since I now have an InstantPot, the brand name for a type of electric pressure cooker, I cooked the potatoes the night before. First, I cooked them for five minutes, which left them a little too hard. I cooked them again for two minutes, which made them a little too soft. The next morning, I diced a few of them, then threw them in a skillet with some oil, salted liberally, and let them fry.
The electric pressure cooker makes steaming/boiling potatoes so much easier than if I had to cook them in a pot on the stove.
Meanwhile, I had a little under a pound of black beans soaking in water since the day before. The morning I wanted to make the corned beef hash, dumped the water the beans had been soaking in, put them in the electric pressure with a bullion cube and let them cook for 15 minutes on high pressure.
Lots of people say you can just throw dry beans in the pressure cooker, it just takes more time. I prefer to soak the beans.
You might think this means the beans are done in 15 minutes. It doesn't. It's much closer to an hour, between the time it takes to heat the pot and bring it to pressure, as well as the time it takes to naturally release the pressure. Still, an hour without any babysitting the pot isn't bad.
Potatoes: cooking. Beans: cooking. Corned beef hash: cooking.
Next up is the green chile. Chop it up and throw it in a hot skillet for a few minutes.
In hindsight, I probably should have added some eggs, either fried and on top of the burrito, and cooked and put inside the burrito, but I didn't think of it at the time.
When it comes to the burrito, it needs to be large enough to allow for all of the ingredients. Often, packages will state "burrito size."
So, go make yourself a corned beef hash burrito! You will be amazed at how delicious it is.
Find the rest of the photos here on Flickr.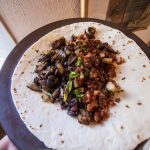 Print Recipe
Corned beef hash breakfast burrito
A staple of New Mexican gas stations, the corned beef breakfast burrito is a wonderful fusion
Ingredients
1-2

eggs scrambled or fried

Milk if making scrambled eggs

1-3

green chiles diced

1

can corned beef hash or hash made from slow cooked corned beef

2-4

ounces

cooked black beans

3

diced potatoes

2

Burrito-sized tortillas

Red chile

prepared (optional)

secret sauce

optional
Instructions
Cook the beans, or buy canned beans.

Steam or boil potatoes until tender

Heat a skillet over medium high heat. Put the hash into the skillet and cook until it begins to lightly brown.

Either remove the corned beef hash to container and add the diced potatoes, with some oil, or heat another skillet on high, add a little oil, and toss in the diced potatoes. Shake salt over the potatoes and cook until lightly brown.

Cook the eggs and remove to plate or bowl when done.

Cook the beans in a skillet with a dab of oil, briefly, to remove excess liquid

Briefly heat the first tortilla in the microwave or in the skillet, until just a little warm and pliable.

Add the ingredients you're using to the center of the tortilla, including the hash, potatoes, eggs, beans, chile and anything else, roll, and serve with red chile, salsa, sauce and garnish with lime slices.