Having made rice bowls the night before, I had lots of leftover rice. (Part and parcel of making rice bowls is leftover rice, to either be used in future bowls or in other dishes).
That meant, this morning, it was time to fry up some spam, cook some eggs in the spam fat and heat up that leftover rice to make a (modern) Hawaiian classic, spam, eggs and rice.
Now, a close relative of this is the spam musubi. I wrote about it for the Rio Grande SUN (no link since the columns don't make it to the website) but I did post the recipe here.
Many people, including the people I work with, cast aspersions on the very idea of spam, or scoff, or express their pure disgust at the idea. Then again, lots of people are scared of lots of things, and if you weren't put off by the article title, I hope you will keep reading.
Spam, rice and eggs is so ubiquitous in Hawaii that it's even sold at McDonald's, part of their breakfast menu. That also indicates what kind of a breakfast it's going to be. But, never fear. Much like the rice bowl, you can easily add veggies to the top of your rice to make it a more balanced meal.
Spam, rice and eggs is so simple, almost dead simple. Simply cut a couple of pieces off of the spam log, fry them up in a pan, heat up some leftover sushi or vinegared rice (you can also use normal steamed rice, fresh or leftover) and cook a couple of eggs in that same pan, either fried or scrambled. Put some furikake (Japanese seasoning made with seaweed, among other things) on the rice, maybe cut up a few veggies to put over the rice and there, you have it.
Spam, rice and eggs. Simple, wasn't it?
Next up, according to my thinking? Spam, (sushi) rice and eggs in a burrito. New Mexican and Hawaiian fusion, all the way.
See the full set of photos (see below) on Flickr.
All the photos are released under a Creative Commons Attribution Only (2.0) license.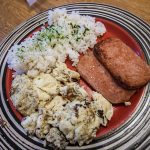 Print Recipe
Spam, rice and eggs
Spam makes a great breakfast food when paired with some rice and eggs.
Ingredients
1

can of spam

2-5

eggs

Vegetables as desired

Rice

leftover or fresh

Milk

if making scrambled eggs

1

tablespoon

oil

Butter

(optional)
Instructions
If using fresh rice, make it now. I suggest making sushi/vinegared rice, either fresh or left over.

Heat a large pan over medium-high heat.

Take the spam out of its package and slice into 1/4 inch slices.

Fry the spam until lightly brown on each side

Cut up any vegetables desired to be used on the rice

Prepare eggs for scrambling, if cooking that way, including mixing and adding milk.

Cook the eggs as desired.

Serve the spam with the rice and eggs.