Cranberry sauce (or relish) is usually a dish reserved for Thanksgiving, Christmas and any other time you're serving a turkey.
Whatever the occasion, cranberry sauce is one of the dishes you should make before before roasting the turkey, along with stuffing and most of the gravy.
Now, before you entirely discount this recipe, I can attest that it was one of the biggest hits from Thanksgiving 2017. The fact that spice is a part of what would normally be a sweet dish adds some to the allure.
It's also very easy, although how cheap depends on if you can get cranberries on sale.
It's essentially your regular cranberry sauce recipe (which will gel in the refrigerator) with the addition of lemon and lime juice, a little ginger and some jalapeños.
The biggest pain in the recipe is making sure to keep mixing the ingredients, while they are on the stove, to keep them from burning.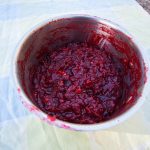 Print Recipe
Spicy cranberry sauce/relish
A spicy cranberry sauce that goes well with turkey.
Ingredients
1 ¼

cups

sugar

2

jalapenos

finely diced

1

tsp

lime juice

1/2

tsp

salt

1/2

tsp

chile powder

1

tbsp

grated ginger

can substitute powdered ginger

12

ounces

cranberries

1/2

cup

water
Instructions
Combine the sugar, jalapeños, lemon and lime juice, salt, chile powder and water in a medium sauce pan and put over medium-high heat. Stir, as it simmers, until the sugar dissolves, about 2 to 3 minutes.

Add the ginger and cranberries and bring the combination to a boil.

Once it boils, reduce the heat to medium and stir enough so the cranberries do not burn on the bottom of the pot. Continue to simmer (and periodically stir) until the cranberries soften and there is no liquid remaining in the pot, between 15 to 20 minutes.

Allow to cool and refrigerate until it's ready to be used. It will store for two weeks.
Notes
Recipe adapted from David Tanis.