In New Mexico, Chile is king. No questions. No debate. Red, or green? Christmas? (Christmas is both red and green.)
(If you want just the recipe, see it here.)
Cilantro certainly plays a second fiddle, in salsa, as do tomatoes, but still: chile, cilantro, these are the building blocks of many New Mexican meals. So, what does that have to do with zhug? Well, combine those two things into one dish. Blew your mind, didn't it?
Chile and cilantro are not the sole property of New Mexican cuisine and lots of other cultures do complimentary things with them that I think we should all copy, or at least, pay attention to.
That New Mexico can learn a lot from other parts of the world, including from the middle-east, where zhug originated.
What is zhug, anyway?
It can either be described as a cilantro-based hot sauce (and, depending on how you make it, I mean Hot) or as chile and cilantro pesto. Take your pick. I prefer the former, partially because I make mine scalding.
It's a very simple sauce. Put cilantro, lemon juice, lime juice and, important here, peppers, into a blender. Blend. Blend, blend, blend.
That's it. Maybe add some salt, to taste. And you're done. It's a pesto-like hot sauce or a hot pesto. Either way, zhug goes well with pita bread and tabbouleh, with some hummus. Maybe you're going to make zucchini fritters. Add some on the side, along with tzatziki.
I should add, this sauce is very dear to my heart. Being such a fan of cilantro, even naming my blog after a proclivity for it, I gotta say. We all should love zhug.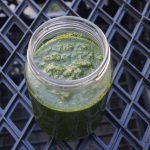 Print Recipe
Zhug
This Yemeni/Somali hot sauce goes great on most things, including rice, fritters and in conjunction with hummus.
Equipment
Blender or food processor
Ingredients
10-20

hot peppers (jalapeno)

rinsed and chopped (de-seed if heat is an issue)

1-3

bunches of cilantro

washed and chopped

3-6

garlic cloves

chopped

¼

teaspoon

ground cardamom or seeds from 6 cardamom pods

crushed

¼

teaspoon

ground coriander

(cilantro seeds)

½

teaspoon

ground cumin

1

tbsp

lime juice

more to taste

¼ to ½

cup

lemon juice

more or less to taste

1

tablespoon

olive oil

Salt to taste

1/4

cup

Chopped mint

optional
Instructions
Chop the cilantro, peppers and garlic.

Put all the ingredients, sans salt, in a food processor or blender. Blend until it reaches desired consistency.

Add a small amount of salt, to taste.
If you want the full gallery of full-quality photos, they are licensed under a Creative Commons 2.0 Attribution-only license. See them here.