Summertime, and the living is hot, which means cooking indoors is a pain. There is a solution. The grill.
I love grills for a multitudes of reasons. They can be quick, they are outdoors, they are tasty and easy and, in the summer, cooking inside is far too miserable.
That's where a new take on grilled chicken comes in. Specifically, it is a Thai take on the humble hunk of chicken meat.
Gai yang, also called kai yang or ping gai, or simply Thai grilled chicken, brings together some of the most prominent flavors in the west: lime, cilantro, garlic and chiles.
The flavors mix, meld and create something worth adding to the regular stable of meat marinades.
I was lucky enough to, most recently, take a return trip to Thailand just on the cusp of the current pandemic. That meant tourism was down and the streets were not nearly as packed as I have seen them in travels past. Although there were fewer people, there were still plenty of street food vendors with small grills and bags of marinating meat.
Many of the grilled foods had two common ingredients: lime and chiles. There is a third ingredient, which smells awful, but really adds a savory, or unami taste: fish sauce. I swear by it in most marinades, where it adds a saltiness and depth of flavor not offered by soy sauce.
It's an ingredient that is in lots of Thai cuisine but its influence melds into the background, becoming indistinguishable on the palate, except for a sparkle.
Really, gai yang is not that different from a regular citrus marinade, with the exception of fish sauce: cilantro, garlic, lemon and lime.
The original marinade recipe I used as a base calls for chopped lemongrass and cilantro roots. I know finding cilantro with the root still on his hit or miss, and lemongrass is hard to find, so I've substituted lemon rind.
Making the marinade requires a good processor or blender and the chicken should sit for at least three hours, if not overnight.
I serve this chicken with some green chiles roasted on the grill and rice.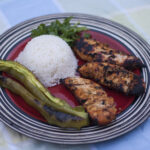 Print Recipe
Wheeler's Thai grilled chicken
This Thai grilled chicken, or Gai Yang, with a side of roasted chiles and rice, makes a great weekday staple.
Ingredients
Main
1-4

lbs

chicken breasts, thighs or drumsticks

2+

green chiles

1

cup

cilantro, coarsely chopped
Marinade
3

tbsp

chopped garlic

2

jalapeños, chopped

1

tbsp

brown sugar

3

tbsp

fish sauce

2+

tbsp

lime juice

2

tbsp

white or red wine

(optional)

1

tsp

sesame seed oil

(optional)

2

tsp

soy sauce

15

sprigs

cilantro, coarsely chopped

1/2

lemon, deseeded, coarsely chopped
Sauce
2

dried red chiles, soaked, then coarsely chopped

2

cloves

garlic, coarsely chopped

1

tbsp

brown sugar

1/4

tsp

salt

1/2

cup

rice vinegar
Instructions
Marinade and sauce
At least three hours prior to grilling the chicken, prepare and marinade the chicken.

In a blender or food processor, combine the marinade ingredients. Blend for 2-3 minutes, until everything is well combined. Everything should already be chopped.

Combine the chicken and the marinade in a container, bowl or ziplock bag and refrigerate for at least three hours. Overnight is preferable.

While the chicken is marinating, combine all of the sauce ingredients in the food processor or blender and mix until well combined. Remove to a separate container for serving and refrigerate until ready to serve.
Grill
Grill the chicken over medium to medium-high heat until done. Chicken thighs taken longer than breasts and bone in takes longer than boneless. If the chicken is bone-in, cook over medium heat. Add a little of the marinade to the chicken while it cooks.

While the chicken is grilling add the green chiles, cut lengthwise, to the grill and cook until the skin is well blistered.

Once the chicken is done, remove from the grill and allow to rest for 2-3 minutes.

Serve with rice and the sauce you previously made in the blender/food processor and the roasted chiles.

Garnish the plates with the chopped cilantro.