This year has been a banner one for my garden which has been bolstered by all the time I spend at home, by being the one outdoor space I have to use and by all the extra time I can devote to it that normally I would spend commuting every day.
One of the banner crops that really has pushed its way through the garden, going so far as to knock over a corn stalk, is the zucchini.
I have so, so many of them and, I have absolutely no doubt that you, or maybe your neighbor, or maybe just the person down the street, is just like me and drowning in a sea of zucchini.
That's where fritters come in.
Fritter is a broad term for potatoes, zucchini, fruit, meat, dough, and probably many more things, that have been combined and are fried. In this case, the recipe is kind of like latkes (also called potato pancakes), but with zucchini instead.
The comparison is important because both potatoes and zucchini are jam packed with lots and lots of water that need to be removed before they are turned into fritters. It's the same process that goes into preparing decent hash browns, although usually hand power gets them dry enough for the skillet.
In this recipe, salt will help drain the water out of the shredded zucchini, with the aid of a strainer. That only gets so much water out, so there is a second step. Either the shreds can be wrung by hand or, they can be balled up into a dish towel and wrung out as the towel is twisted. I find the dish towel applies enough force to get most of the water out.
The other reason I chose to write about fritters is they go great with two other recipes I've already shared in previous columns, mainly, tzatziki, zhug and hummus. All three make great dips for fritters.
Dill plays a starring role in tzatziki and it goes great in the fritters as well.  Most herbs would do well as a seasoning but, since I like to pair them with tzatziki, I always reach for dill first. It does not hurt that the dill has also been having a banner year, since it has not, yet, been pushed over or smothered by the zucchini.
One thing that most fritters need is some kind of binder. Here, I use eggs and crumbled feta, as well as a little bit of flour.
When it comes to the frying, use a lot of oil if you really want to go for that deep-fried taste, or use a lot less if you're using a non-stick pan. I personally use cast iron skillets so a little oil often goes a long way. Alternatively, the fritters could be baked in the oven.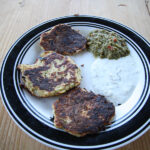 Print Recipe
Zucchini Fritters
These zucchini fritters are a great way to use up a bumper crop and go great with tzatziki, zhug and hummus.
Ingredients
2

lbs

zucchini

1 1/2

tsp

salt

2

eggs

beaten

1/2 to 1

medium onion

4

tbsp

minced fresh dill

1/2

cup

Feta cheese

2

garlic cloves

finely minced

1/4

tsp

pepper

1/3

cup

flour

1

tsp

baking powder

oil

as needed for pan frying
Instructions
Shred the zucchini through the large holes of a grater. Transfer to a strainer on top of a bowl and toss with the salt and let sit for 10-30 minutes.

Wring out the zucchini shreds, either by hand or by putting handfuls into the center of a clean dishtowel and twisting the towel. Try to get out as much water as possible.

Finely mince the onion or shred it with the grater. Mince the fresh dill and the garlic.

Beat the eggs in a large bowl.

Heat a large skillet on medium heat and add a little bit of oil.

Mix in the zucchini, the feta cheese, the onions or scallions, the dill, the garlic and the pepper. Mix.

Sprinkle and mix in the baking powder and flour until well combined.

Drop large spoonfuls of the batter onto the skillet, but do not crowd them together. Lightly press down on the fritters with the back of a spoon.

Turn when golden brown, about three minutes. After the other side is golden brown, remove to a plate and serve with tzatziki and hummus.