(See just the recipe here)
Love and courtship might be a little bit harder in a time of pandemics and lockdowns, but if you're trying to woo someone with a sweet tooth or offer a home-made delight, instead of the usual package of chocolates or flowers, I have the perfect recipe.
It's brownies.
I know you're probably thinking, brownies? I've done that before, or I buy the box in the store.
Well, that might well be true, but I have found these befuddling brownies are easy, cross cultures and are sure to win a few hearts.
I have always used brownies as a way to win hearts and minds. New workplaces, new sources, new groups, new classes and new love interests. They're great for winning all kinds of positive attention, romantic or otherwise.
When I moved to Germany to become an au pair, I was in for a surprise. Brownies did not exist. Germans are not big on sweets – many American staples I baked were totally new to my guest family, including cookies, crumbles and crisps.
Even some of the language we use to describe brownies, mainly fudge, did not exist, because fudge just isn't a thing. For the record, I'm firmly in the fudge camp, which also means a few minutes less in the oven.
Germany did have the basic needed ingredients, although instead of chocolate chips, I had to buy chocolate bars and chop them by hand. When I did make them, my guest family, my language class, my friends, everyone was befuddled by this thing they had never had before.
Baking the brownies
When it comes to making the brownies, there are three problems with the run-of-the-mill brownies, and brownie recipes – overuse of sugar, underuse of dark chocolate and a lack of dark cocoa powder.
I also differ from some recipes in my use of oil instead of butter. After some taste testing, I found I could not really discern any difference between the two. As for flour, I use whole wheat. I find it gives a coarser texture and a slightly nuttier flavor.
If there is one thing you take away from my brownie recipe, it should be the use of normal and dark cocoa powder, and the increased amounts of each in the brownies. This gives them a much richer taste that pairs well with an increased amount of dark/bittersweet chocolate. When I learned dark cocoa powder was a thing, I initially tried the brownies with just it but found a combination between the two came with the best taste. Either way, the amount of cocoa powder in this recipe should be higher than many comparable ones.
There is one key step I have learned the hard way: thoroughly mix the cocoa powder and flour before adding it to the mixture of oil and eggs. Otherwise, they both tend to clump.
Finally, I suggest using parchment paper to line the baking dish instead of greasing it. I always find it much easier to remove than trying to cut into brownies in a pan.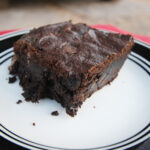 Print Recipe
Befuddling brownies
These brownies are especially rich, thanks to the use of dark cocoa powder.
Ingredients
1

cup

oil

vegetable, canola, etc., or butter

1 1/2

cups

sugar

1+

tbsp

vanilla extract

4

eggs

1 1/2

cups

whole wheat flour

1

cup

dark cocoa powder

1/3

cup

lighter cocoa powder

1 1/2

cups

chocolate chips or morsels
Instructions
Preheat oven to 350 degrees

Combine oil, sugar, vanilla extract. Beat the eggs and then add them to the oil-sugar mix. Mix until combined.

Mix the cocoa powders and flour until well combined.

Add cocoa powder/flour mixture to the oil-sugar combination and mix until well mixed with no remaining clumps.

Mix in the chocolate chips.

Line a 9"x13" baking dish with parchment paper or grease the baking dish.

Pour the mixture onto the parchment paper and bake for 32-38 minutes. Brownies should not jiggle too much. Let cool. Baking for less time will result in a more fudgy consistency, while baking longer will result in a cakey consistency.