A while ago, my mother had to take her boyfriend to the emergency room, which turned into a hospital stay.
Turns out, it was congestive heart failure.
The doctors suggested a few lifestyle changes including a change in diet. They asked him to lower the amount of sodium he consumes each day. That mostly comes from salt, but also lots of prepared foods.
The doctors suggested a low-sodium diet because it helps with a lot of things: kidney failure, high blood pressure (also called hypertension), diabetes and lupus. There's a problem. Going low sodium is hard, especially because salt often adds just that kick to a dish that turns it from ho-hum to fantastic.
After I got the news, I started to pay attention to my own sodium consumption. One of the easiest ways to control sodium intake is to cook at home because the cook controls the amount of salt. According to the Food and Drug Administration, packaged and restaurant foods are responsible for 70% of our sodium intake.
I am not a particularly high risk for congestive heart failure and there is no medical reason for me to reduce my salt intake other than, Americans eat too much salt. According to the Food and Drug Administration, we eat an average of 3,500 mg of sodium a day, but their guidelines cap the daily recommended dose at 2,300 mg, about a teaspoon of salt. Those with high blood pressure should further reduce intake to 1,500 mg a day.
For the new year, I've decided I should reduce my salt intake. That means using more herbs and spices, using low-sodium versions of things like soy sauce and using more flavorful oils.
If I needed to cut back my salt to levels acceptable for someone with high blood pressure, it would be a rough couple of months. Dick Louge, in his cookbook "500 Low Sodium Recipes," wrote it took a month, on a 1,200 mg sodium diet, before he no longer craved salt.
"Today, a 'normal' salted potato chip tastes way too salty to me," he wrote.
I can relate. When I lived in Germany, I found that most restaurant food, but especially Turkish kebabs, were just way too salty for my American taste buds, almost too salty to eat. When visiting Sarajevo in Bosnia and Herzegovina, I had a few kebabs and, to my surprise, they were not too salty at all. I then realized, it wasn't me. It was the Germans.
I decided that a stir-fry would be a recipe to start thinking about how much salt goes into a dish and how to make something taste better when there is less salt.
The first step was to look at the labels of the basics, including chicken stock and soy sauce. One can of chicken stock contained 750 mg of sodium per one cup, compared to just 250 mg for the low-sodium version. A single tablespoon of an average soy sauce has 879 mg of sodium compared to Kikkoman's low-sodium version with 575 mg per tablespoon.
The second step was to take stock of the fresh herbs and spices I could use to add flavors to the dish. Those included mint, basil, ginger, lemon and mushrooms. Thai basil and holy basil are also good additions, although have a spicier taste than Italian basil.
One thing to consider about lemon is that the rind of the lemon, when it is still pliable and fresh, a more bright yellow, makes a great addition to sauces and dishes. The rind is delicious, either cut up, sliced or as lemon zest.
The third step was to consider other ingredients in a dish, in this case, the oil, and seeing if there are more flavorful substitutes. That meant moving from canola oil to sesame oil.
This recipe will leave you wishing there was just a little bit more salt, and maybe a little bit more soy sauce, or a little oyster sauce, would be in order, but going low sodium takes a little time.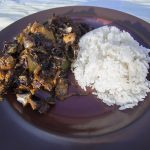 Print Recipe
Low-sodium chicken stir fry
Cutting down on the amount of sodium in a stir fry requires getting flavor from other ingredients, especially herbs.
Ingredients
1/4

cup

chopped basil

fresh

2

tablespoons

chopped mint

2

chopped green onions

chopped

2

cloves

chopped garlic

2

tablespoons

chopped fresh ginger

1/2 to 1

lemon

de-seeded

1

pound

chicken breasts or thighs

cut into bite-sized pieces

2

tbsp

low-sodium soy sauce

1

small onion, chopped

3-6

green chiles, chopped

1

small eggplant

cut into bite-sized pieces

Red, yellow or orange bell pepper, sliced into bite-sized pieces, or

(optional)

broccoli or any other vegetables available, sliced into bite-sized pieces

(optional)

sliced mushrooms

(optional)

3/4

cup

low-sodium chicken broth/stock
Instructions
In a blender or food processor, mix the basil, mint, 1/4 cup of broth, green onions, garlic, 1 tablespoon chopped ginger and lemon. Blend until minced.

Cut the chicken into bite-sized pieces and combine with the soy sauce. Let it briefly marinate.

Chop the onion, chiles, eggplant or other vegetables being used.

In a large pan over high heat, add the sesame seed oil. Once the pan is very hot, add the vegetables and cook until tender, 4-8 minutes. Remove to a bowl.

Add another tablespoon of sesame seed oil and add the basil-lemon-ginger-mint mixture and cook for 1 minute, stirring.

Add the chicken, marinade and 1 tablespoon finely chopped ginger to the pan and cook until done, 2-3 minutes.

Add the 1/2 cup of stock, bring to a boil, and re-add the vegetables to the pan. Cook for another 1-3 minutes. Serve with rice or noodles.