This review was originally posted on Goodreads.com and reviews.wheelerc.org on Sept. 4, 2014.
A History of Stone and Steel is hard. It comes from a place of hardness, as does its main character, Paul Keppel, which contrasts with his chosen path of getting a history doctorate.
The book has a single flaw which bumped it down one star and almost bumped it down too. Sudden, allegedly divine, intervention into the affairs of men, at the end of the book.
It made no sense for me to suddenly need to suspend my disbelief during the last 20 pages. Although something like this had previously been hinted it, it was just that: hints from a crazy religious man. To have the divine intervention, that was just stupid. It ruined the reading experience.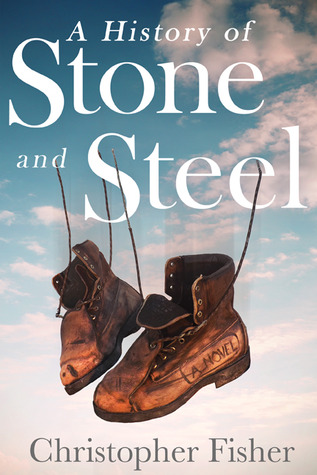 Except for that glaring flaw, Steel is a very good read, somewhat quick and well grounded. The sense of place is not, however, tied to a geographical place (I kept thinking of it being in the rural West) but rather, a manufacturing town and a university town.
The scenes are mostly enjoyable, the novel does not drag and the characters seem believable.
The novel appears to use functions just before our current situation, which make it a wee bit harder to believe in our immediate present, saturated with Obamacare.
Steel is worth reading, despite its terrible deus ex machine.
This book was received, free of charge, from the Goodreads First Reads program.